This is the chapter web page to support the content in Chapter 8 of the book: Exploring Raspberry Pi – Interfacing to the Real World with Embedded Linux. The summary introduction to the chapter is as follows:
This chapter describes bus communication in detail, explaining and comparing the different bus types that are available on the Raspberry Pi. It describes how you can configure them for use, and how you can communicate with and control I2C, SPI, and UART devices, using both Linux tools and custom-developed C/C++ code. Practical examples are provided using different low-cost bus devices, such as a real-time clock, an accelerometer, a serial shift register with a seven-segment display, a USB-to-TTL 3.3 V cable, and a GPS receiver. After reading this chapter, you should have the skills necessary to begin interfacing almost any type of bus device to the Raspberry Pi.
After completing this chapter, you should hopefully be able to do the following:
Describe the most commonly used buses or interfaces that are available on the RPi, and choose the correct bus to use for your application.
Configure the RPi to enable I2C, SPI, and UART capabilities.
Attach circuits to the RPi that interface to its I2C bus, and use the Linux I2C-tools to communicate with those circuits.
Build circuits that interface to the SPI bus using shift registers, and write C code that controls low-level SPI communication.
Write C/C++ code that interfaces to and "wraps" the functionality of devices attached to the I2C and SPI buses.
Communicate between UART devices using both Linux tools and custom C code.
Build a basic distributed system that uses UART connections to the RPi to allow it to be controlled from a desktop PC.
Interface to a low-cost GPS sensor using a UART connection.
Add logic-level translation circuitry to your circuits in order to communicate between devices with different logic-level voltages.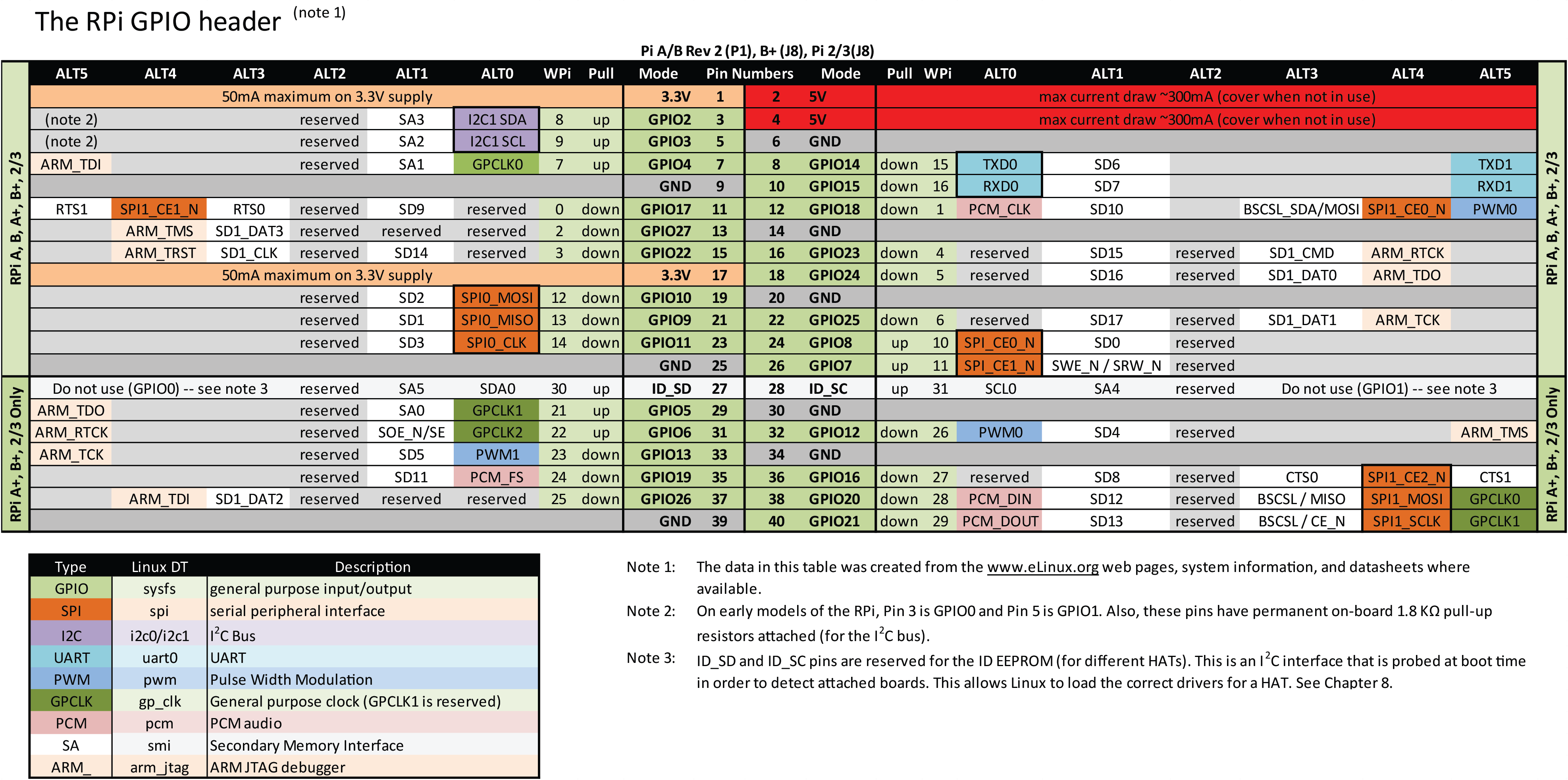 An I²C Tutorial Video
In this video I discuss the I²C bus and how we can connect and program devices attached to the bus using C/C++. I explain the use of i2c-tools on embedded Linux and then show how we can interface to a digital accelerometer (Bosch BMA180) or any other I²C device. Finally, I show how we can use sysfs to build a C++ class that wraps the functionality of the digital accelerometer. This video is implemented on the BeagleBone, but the steps are identical for the Raspberry Pi.
All of the source code that is described in this book is available in a public GitHub repository: Derek Molloy Exploring Raspberry Pi repository.
You can clone this repository on a Linux desktop computer or your Raspberry Pi using the command:
git

clone

https

:

//github.com/derekmolloy/exploringrpi.git
The code for this chapter can be accessed in the chp08 folder of the cloned repository. The formatted code is provided here for your convenience.
1

2

3

4

5

6

7

8

9

10

11

12

13

14

15

16

17

18

19

20

21

22

23

24

25

26

27

28

29

30

31

32

33

34

35

36

37

38

39

40

41

42

43

44

45

46

47

48

49

50

51

52

53

54

55

56

* I2C.h Created on: 17 May 2014

* Copyright (c) 2014 Derek Molloy (www.derekmolloy.ie)

* Made available for the book "Exploring Raspberry Pi"

* See: www.exploringrpi.com

* Licensed under the EUPL V.1.1

* This Software is provided to You under the terms of the European

* Union Public License (the "EUPL") version 1.1 as published by the

* European Union. Any use of this Software, other than as authorized

* under this License is strictly prohibited (to the extent such use

* is covered by a right of the copyright holder of this Software).

* This Software is provided under the License on an "AS IS" basis and

* without warranties of any kind concerning the Software, including

* without limitation merchantability, fitness for a particular purpose,

* absence of defects or errors, accuracy, and non-infringement of

* intellectual property rights other than copyright. This disclaimer

* of warranty is an essential part of the License and a condition for

* the grant of any rights to this Software.

* For more details, see http://www.derekmolloy.ie/

#define I2C_0 "/dev/i2c-0"

#define I2C_1 "/dev/i2c-1"

* @brief Generic I2C Device class that can be used to connect to any type of I2C device and read or write to its registers

I2CDevice

(

unsigned

int

bus

,

unsigned

int

device

)

;

virtual

int

write

(

unsigned

char

value

)

;

virtual

unsigned

char

readRegister

(

unsigned

int

registerAddress

)

;

virtual

unsigned

char

*

readRegisters

(

unsigned

int

number

,

unsigned

int

fromAddress

=

0

)

;

virtual

int

writeRegister

(

unsigned

int

registerAddress

,

unsigned

char

value

)

;

virtual

void

debugDumpRegisters

(

unsigned

int

number

=

0xff

)

;

}

/* namespace exploringRPi */
Listing 8-1: I2CDevice.cpp
1

2

3

4

5

6

7

8

9

10

11

12

13

14

15

16

17

18

19

20

21

22

23

24

25

26

27

28

29

30

31

32

33

34

35

36

37

38

39

40

41

42

43

44

45

46

47

48

49

50

51

52

53

54

55

56

57

58

59

60

61

62

63

64

65

66

67

68

69

70

71

72

73

74

75

76

77

78

79

80

81

82

83

84

85

86

87

88

89

90

91

92

93

94

95

96

97

98

99

100

101

102

103

104

105

106

107

108

109

110

111

112

113

114

115

116

117

118

119

120

121

122

123

124

125

126

127

128

129

130

131

132

133

134

135

136

137

138

139

140

141

142

143

144

145

146

147

148

149

150

151

152

153

154

155

156

157

158

159

160

161

162

163

164

165

166

167

168

169

170

171

172

173

174

* I2C.cpp Created on: 17 May 2014

* Copyright (c) 2014 Derek Molloy (www.derekmolloy.ie)

* Made available for the book "Exploring Raspberry Pi"

* See: www.exploringrpi.com

* Licensed under the EUPL V.1.1

* This Software is provided to You under the terms of the European

* Union Public License (the "EUPL") version 1.1 as published by the

* European Union. Any use of this Software, other than as authorized

* under this License is strictly prohibited (to the extent such use

* is covered by a right of the copyright holder of this Software).

* This Software is provided under the License on an "AS IS" basis and

* without warranties of any kind concerning the Software, including

* without limitation merchantability, fitness for a particular purpose,

* absence of defects or errors, accuracy, and non-infringement of

* intellectual property rights other than copyright. This disclaimer

* of warranty is an essential part of the License and a condition for

* the grant of any rights to this Software.

* For more details, see http://www.derekmolloy.ie/

#include<linux/i2c-dev.h>

#define HEX(x) setw(2) << setfill('0') << hex << (int)(x)

* Constructor for the I2CDevice class. It requires the bus number and device number. The constructor

* opens a file handle to the I2C device, which is destroyed when the destructor is called

* @param bus The bus number.

* @param device The device ID on the bus.

I2CDevice

::

I2CDevice

(

unsigned

int

bus

,

unsigned

int

device

)

{

* Open a connection to an I2C device

* @return 1 on failure to open to the bus or device, 0 on success.

if

(

this

->

bus

==

0

)

name

=

I2C_0

;

if

(

(

this

->

file

=

::

open

(

name

.

c_str

(

)

,

O_RDWR

)

)

<

0

)

{

perror

(

"I2C: failed to open the bus\n"

)

;

if

(

ioctl

(

this

->

file

,

I2C_SLAVE

,

this

->

device

)

<

0

)

{

perror

(

"I2C: Failed to connect to the device\n"

)

;

* Write a single byte value to a single register.

* @param registerAddress The register address

* @param value The value to be written to the register

* @return 1 on failure to write, 0 on success.

int

I2CDevice

::

writeRegister

(

unsigned

int

registerAddress

,

unsigned

char

value

)

{

buffer

[

0

]

=

registerAddress

;

if

(

::

write

(

this

->

file

,

buffer

,

2

)

!=

2

)

{

perror

(

"I2C: Failed write to the device\n"

)

;

* Write a single value to the I2C device. Used to set up the device to read from a

* @param value the value to write to the device

* @return 1 on failure to write, 0 on success.

int

I2CDevice

::

write

(

unsigned

char

value

)

{

if

(

::

write

(

this

->

file

,

buffer

,

1

)

!=

1

)

{

perror

(

"I2C: Failed to write to the device\n"

)

;

* Read a single register value from the address on the device.

* @param registerAddress the address to read from

* @return the byte value at the register address.

unsigned

char

I2CDevice

::

readRegister

(

unsigned

int

registerAddress

)

{

this

->

write

(

registerAddress

)

;

if

(

::

read

(

this

->

file

,

buffer

,

1

)

!=

1

)

{

perror

(

"I2C: Failed to read in the value.\n"

)

;

* Method to read a number of registers from a single device. This is much more efficient than

* reading the registers individually. The from address is the starting address to read from, which

* @param number the number of registers to read from the device

* @param fromAddress the starting address to read from

* @return a pointer of type unsigned char* that points to the first element in the block of registers

unsigned

char

*

I2CDevice

::

readRegisters

(

unsigned

int

number

,

unsigned

int

fromAddress

)

{

this

->

write

(

fromAddress

)

;

unsigned

char

*

data

=

new

unsigned

char

[

number

]

;

if

(

::

read

(

this

->

file

,

data

,

number

)

!=

(

int

)

number

)

{

perror

(

"IC2: Failed to read in the full buffer.\n"

)

;

* Method to dump the registers to the standard output. It inserts a return character after every

* 16 values and displays the results in hexadecimal to give a standard output using the HEX() macro

* that is defined at the top of this file. The standard output will stay in hexadecimal format, hence

* the call on the last like.

* @param number the total number of registers to dump, defaults to 0xff

void

I2CDevice

::

debugDumpRegisters

(

unsigned

int

number

)

{

cout

<<

"Dumping Registers for Debug Purposes:"

<<

endl

;

unsigned

char

*

registers

=

this

->

readRegisters

(

number

)

;

for

(

int

i

=

0

;

i

<

(

int

)

number

;

i

++

)

{

cout

<<

HEX

(

*

(

registers

+

i

)

)

<<

" "

;

if

(

i

%

16

==

15

)

cout

<<

endl

;

* Close the file handles and sets a temporary state to -1.

* Closes the file on destruction, provided that it has not already been closed.

I2CDevice

::

~

I2CDevice

(

)

{

if

(

file

!=

-

1

)

this

->

close

(

)

;

}

/* namespace exploringRPi */
int

fd

=

wiringPiI2CSetup

(

0x68

)

;

int

secs

=

wiringPiI2CReadReg8

(

fd

,

0x00

)

;

int

mins

=

wiringPiI2CReadReg8

(

fd

,

0x01

)

;

int

hours

=

wiringPiI2CReadReg8

(

fd

,

0x02

)

;

printf

(

"The RTC time is %2d:%02d:%02d\n"

,

hours

,

mins

,

secs

)

;
1

2

3

4

5

6

7

8

9

10

11

12

13

14

15

16

17

18

19

20

21

22

23

24

25

26

27

28

29

30

31

32

33

34

35

36

37

38

39

40

41

42

43

44

45

46

47

48

49

50

51

52

53

54

55

56

57

58

59

60

61

62

63

64

65

66

67

68

69

70

71

72

73

74

75

76

77

78

/** SPI C Seven-Segment Display Example, Written by Derek Molloy (www.derekmolloy.ie)

* for the book Exploring Raspberry Pi. Based on the spidev_test.c code

* example at www.kernel.org */

#include<linux/spi/spidev.h>

#define SPI_PATH "/dev/spidev0.0"

// The binary data that describes the LED state for each symbol

// A(top) B(top right) C(bottom right) D(bottom)

// E(bottom left) F(top left) G(middle) H(dot)

const

unsigned

char

symbols

[

16

]

=

{

//(msb) HGFEDCBA (lsb)

0b00111111

,

0b00000110

,

0b01011011

,

0b01001111

,

// 0123

0b01100110

,

0b01101101

,

0b01111101

,

0b00000111

,

// 4567

0b01111111

,

0b01100111

,

0b01110111

,

0b01111100

,

// 89Ab

0b00111001

,

0b01011110

,

0b01111001

,

0b01110001

// CdEF

int

transfer

(

int

fd

,

unsigned

char

send

[

]

,

unsigned

char

rec

[

]

,

int

len

)

{

struct

spi_ioc_transfer

transfer

;

//the transfer structure

transfer

.

tx_buf

=

(

unsigned

long

)

send

;

//the buffer for sending data

transfer

.

rx_buf

=

(

unsigned

long

)

rec

;

//the buffer for receiving data

transfer

.

len

=

len

;

//the length of buffer

transfer

.

speed_hz

=

1000000

;

//the speed in Hz

transfer

.

bits_per_word

=

8

;

//bits per word

transfer

.

delay_usecs

=

0

;

//delay in us

// transfer.cs_change = 0; // affects chip select after transfer

// transfer.tx_nbits = 0; // no. bits for writing (default 0)

// transfer.rx_nbits = 0; // no. bits for reading (default 0)

// transfer.pad = 0; // interbyte delay - check version

// send the SPI message (all of the above fields, inc. buffers)

int

status

=

ioctl

(

fd

,

SPI_IOC_MESSAGE

(

1

)

,

&

transfer

)

;

perror

(

"SPI: SPI_IOC_MESSAGE Failed"

)

;

int

fd

,

i

;

// file handle and loop counter

unsigned

char

null

=

0x00

;

// sending only a single char

uint8_t

mode

=

3

;

// SPI mode 3

// The following calls set up the SPI bus properties

if

(

(

fd

=

open

(

SPI_PATH

,

O_RDWR

)

)

<

0

)

{

perror

(

"SPI Error: Can't open device."

)

;

if

(

ioctl

(

fd

,

SPI_IOC_WR_MODE

,

&

mode

)

==

-

1

)

{

perror

(

"SPI: Can't set SPI mode."

)

;

if

(

ioctl

(

fd

,

SPI_IOC_RD_MODE

,

&

mode

)

==

-

1

)

{

perror

(

"SPI: Can't get SPI mode."

)

;

printf

(

"SPI Mode is: %d\n"

,

mode

)

;

printf

(

"Counting in hexadecimal from 0 to F now:\n"

)

;

// This function can send and receive data, just sending now

if

(

transfer

(

fd

,

(

unsigned

char

*

)

&

symbols

[

i

]

,

&

null

,

1

)

==

-

1

)

{

perror

(

"Failed to update the display"

)

;

printf

(

"%4d\r"

,

i

)

;

// print the number in the terminal window

fflush

(

stdout

)

;

// need to flush the output, no \n

usleep

(

500000

)

;

// sleep for 500ms each loop

close

(

fd

)

;

// close the file
1

2

3

4

5

6

7

8

9

10

11

12

13

14

15

16

17

18

19

20

21

22

23

24

25

26

27

28

29

30

31

32

33

34

35

36

37

38

39

40

41

42

43

44

45

46

47

48

49

50

51

52

53

54

55

56

57

58

59

60

61

62

63

64

65

66

67

68

69

70

71

72

73

74

75

76

77

78

79

80

81

82

// Sends a message to the client and displays the message on the console

int

message

(

int

client

,

char

*

message

)

{

int

size

=

strlen

(

message

)

;

printf

(

"Server>>>%s\n"

,

(

message

+

1

)

)

;

// print message with new line

if

(

write

(

client

,

message

,

size

)

<

0

)

{

perror

(

"Error: Failed to write to the client\n"

)

;

write

(

client

,

"\n\rERPi>"

,

7

)

;

// display a simple prompt

return

0

;

// \r for a carriage return

// Checks to see if the command is one that is understood by the server

int

processCommand

(

int

client

,

char

*

command

)

{

if

(

strcmp

(

command

,

"LED on"

)

==

0

)

{

val

=

message

(

client

,

"\r[Turning the LED on]"

)

;

digitalWrite

(

LED_GPIO

,

HIGH

)

;

// turn the physical LED on

else

if

(

strcmp

(

command

,

"LED off"

)

==

0

)

{

val

=

message

(

client

,

"\r[Turning the LED off]"

)

;

digitalWrite

(

LED_GPIO

,

LOW

)

;

// turn the physical LED off

else

if

(

strcmp

(

command

,

"quit"

)

==

0

)

{

// shutting down server!

val

=

message

(

client

,

"\r[goodbye]"

)

;

else

{

val

=

message

(

client

,

"\r[Unknown command]"

)

;

}

int

main

(

int

argc

,

char

*

argv

[

]

)

{

char

*

command

=

malloc

(

255

)

;

wiringPiSetupGpio

(

)

;

// initialize wiringPi

pinMode

(

LED_GPIO

,

OUTPUT

)

;

// the LED is an output

if

(

(

client

=

open

(

"/dev/ttyAMA0"

,

O_RDWR

|

O_NOCTTY

|

O_NDELAY

)

)

<

0

)

{

perror

(

"UART: Failed to open the file.\n"

)

;

tcgetattr

(

client

,

&

options

)

;

options

.

c_cflag

=

B115200

|

CS8

|

CREAD

|

CLOCAL

;

options

.

c_iflag

=

IGNPAR

|

ICRNL

;

tcflush

(

client

,

TCIFLUSH

)

;

fcntl

(

STDIN_FILENO

,

F_SETFL

,

O_NONBLOCK

)

;

// make reads non-blocking

tcsetattr

(

client

,

TCSANOW

,

&

options

)

;

if

(

message

(

client

,

"\n\rRPi Serial Server running"

)

<

0

)

{

perror

(

"UART: Failed to start server.\n"

)

;

// Loop forever until the quit command is sent from the client or

// Ctrl-C is pressed in the server's terminal window

write

(

STDOUT_FILENO

,

&

c

,

1

)

;

command

[

count

-

1

]

=

'\0'

;

// replace /n with /0

processCommand

(

client

,

command

)

;

count

=

0

;

// reset the command string

if

(

read

(

STDIN_FILENO

,

&

c

,

1

)

>

0

)

{

// can send from stdin to client

while

(

strcmp

(

command

,

"quit"

)

!=

0

)

;
gps_init

(

)

;

// initialize the device

loc_t

gps

;

// a location structure

gps_location

(

&

gps

)

;

// determine the location data

printf

(

"The RPi location is (%lf,%lf)\n"

,

gps

.

latitude

,

gps

.

longitude

)

;

printf

(

"Altitude: %lf m. Speed: %lf knots\n"

,

gps

.

altitude

,

gps

.

speed

)

;
The I²C Manual, Jean‐Marc Irazabal and Steve Blozis, Philips Semiconductors, TecForum at DesignCon 2003 in San Jose, CA, on January 27, 2003, at http://www.nxp.com/documents/application_note/AN10216.pdf
The Linux I²C Subsystem , at i2c.wiki.kernel.org.
Serial Programming Guide for POSIX Operating Systems, 5th ed., Michael R. Sweet, 1994‐99, at http://www.cmrr.umn.edu/~strupp/serial.html
Serial Programming HOWTO, Gary Frerking, Revision 1.01, at http://tldp.org/HOWTO/Serial-Programming-HOWTO/